Eurovan Solar Panel
Back
Updated 2013-03-15 with more pictures

In which I describe the adding of an 85 watt solar panel and charge controller to a 2000 Eurovan Camper.

I had several goals in this project: a solar panel that was big enough to provide significant power (for the non-stock oversized house batteries) but not so big or heavy that it wouldn't fit on the roof, or would make raising the roof too difficult from added weight. Price was a concern. Solar panels tend to come in two varieties: 12 volts, and 24+ volts. The 12V panels are better for RV use since they don't require a MPPT charge controller. I don't plan on selling the van, so cutting holes & permanent modifications were O.K.

What I ended up with:
Pictures:
(click for full size)
Solar Panel On Roof
showing custom aluminum mount which connects to Yakima roof rack (in the background, visible is the MaxxFan, installation as per
Eurovan MaxxFan
)
Many solar panels are too big, heavy, or rectangular shaped to fit nicely on the roof. This is a SolarTech 85 which has a relatively square aspect ratio. I mounted it close to the hinge on the roof to reduce the amount of level-arm it adds for opening the roof.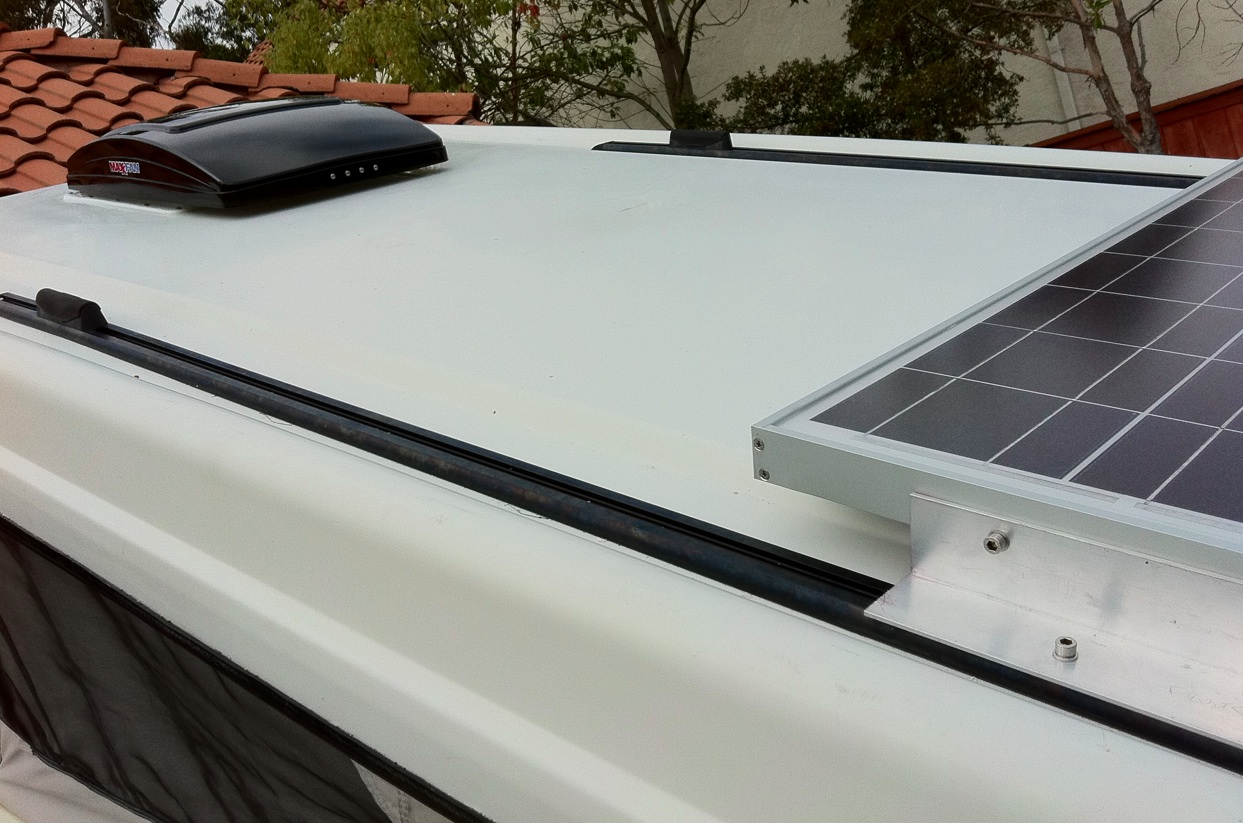 Detail showing roof penetration for wiring
I drilled a hole underneath the plastic end cap of the yakima rack, so it was easy to seal, and could be hidden.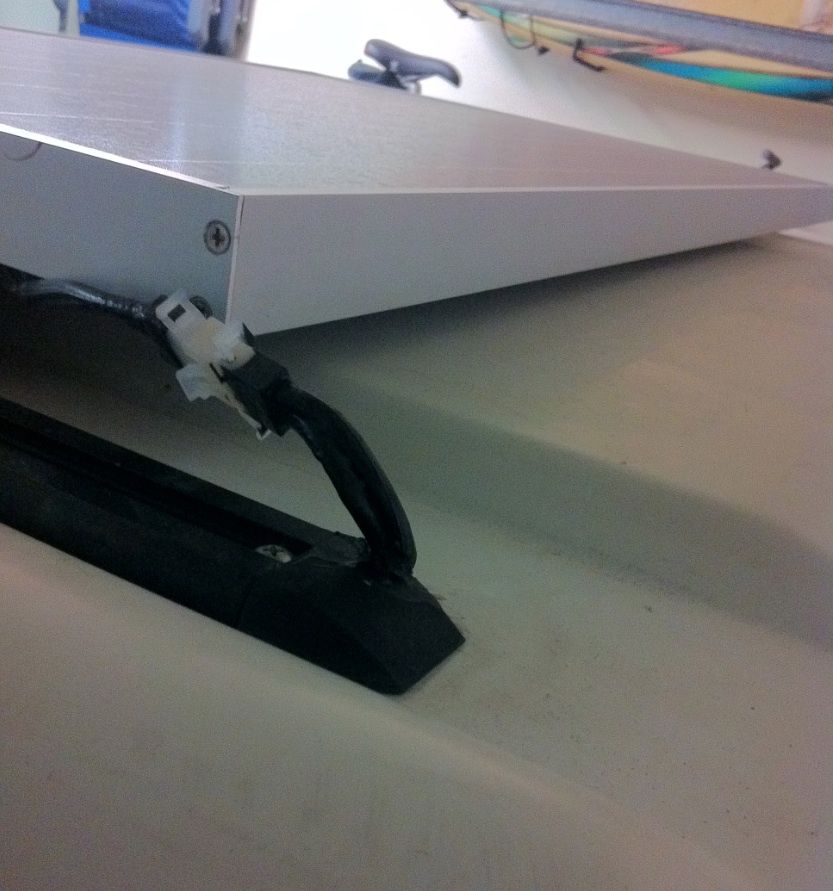 Moar Power:
modified battery compartment with dual
Trojan T145
This is a non-stock modification by the van's previous owner.
These provide about 220-260 AH Amp*Hours according to the specifications, which is about double the energy available in the stock house battery.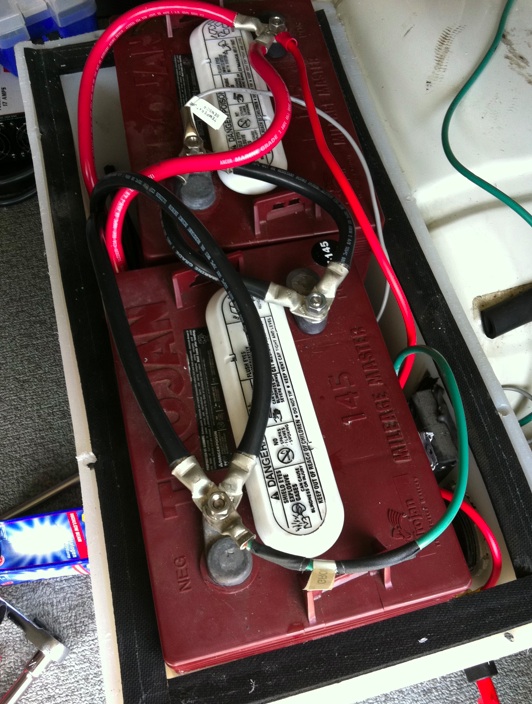 Even Moar Power:
a Vector Maxx SST 054C "2000 watt" inverter mounted under the rear seat (also visible, audio amplifier)
Vector 2000W Inverter User Manual
. This is a silly-big inverter, and is really overkill for this application. I may replace this with a smaller true-sine-wave inverter in the future.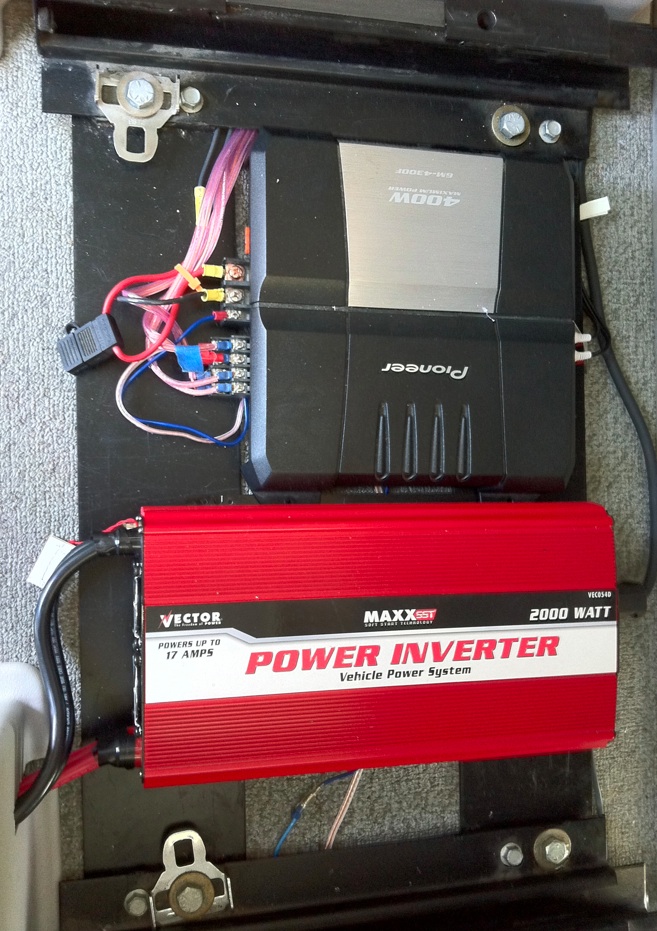 Charger Controller:
morningstar SunSaver Duo - it fits snugly behind the existing camper van electrical panel, held on with velcro
The SunSaver Duo has one very nice feature: a 2nd battery connection so you can also monitor and charge the starter battery as well.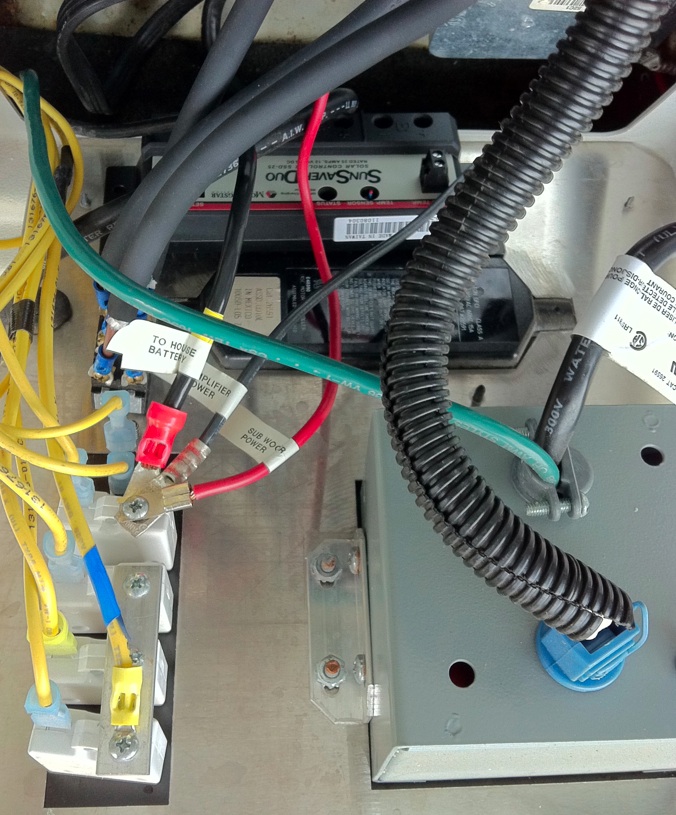 Remote Monitor:
mounted above the sink so you can watch the pretty photons arriving
This is a temporary mounting stuck on with hot glue, if I like the location I'll go ahead and cut a hole in the wall and do a flush mount...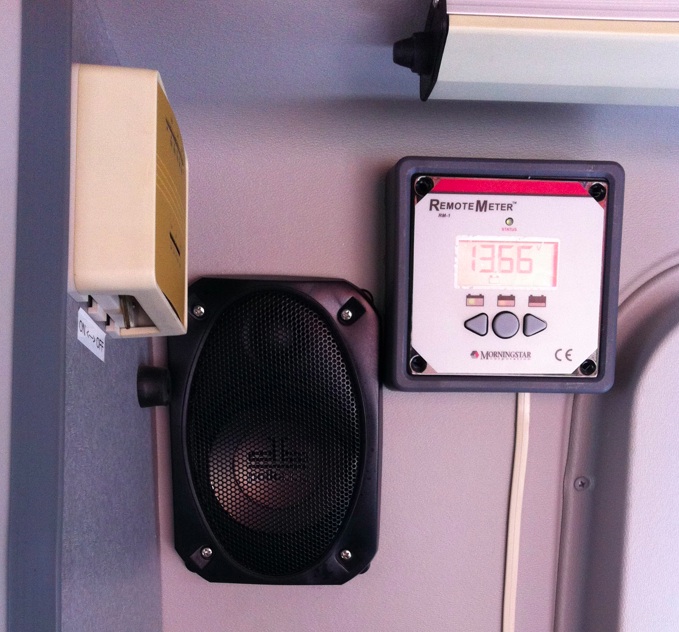 Remoter Monitor Final location:
turns out it was too deep to mount flush, so I left it surface mounted but ran the wire behind the wall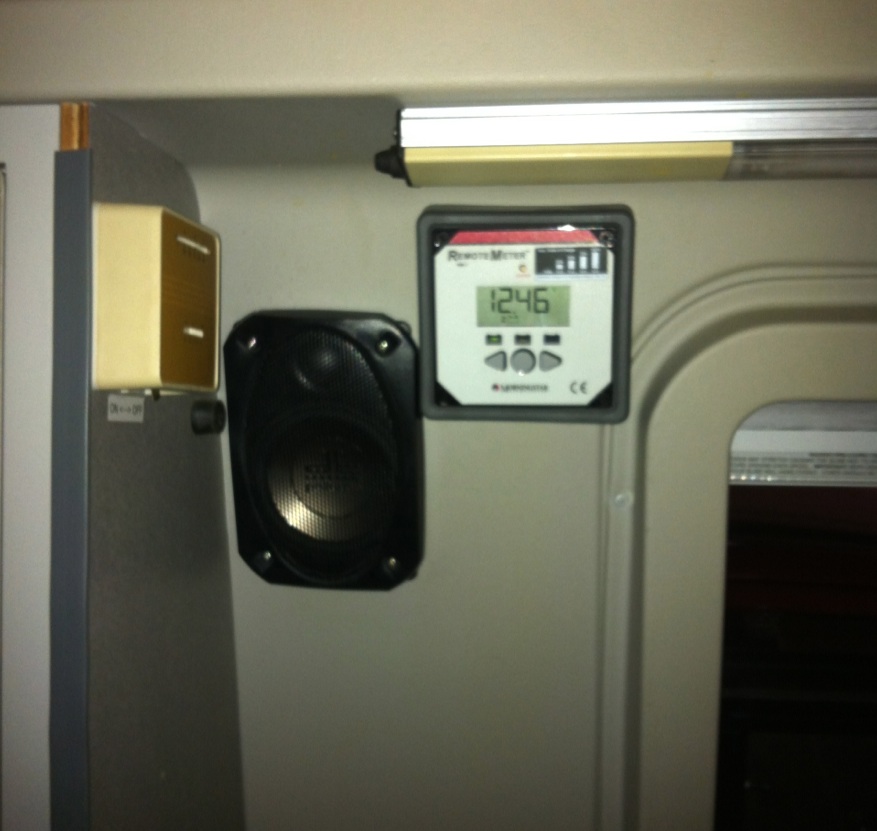 Notes